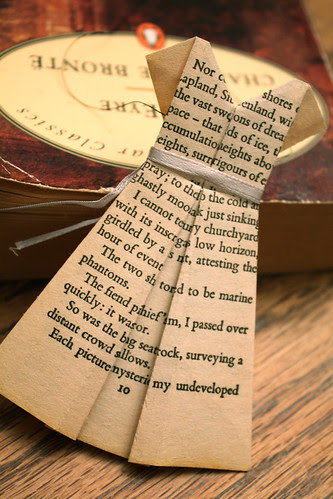 New ornaments are always fun to get, and to give. This is the perfect decoration for a bookie to hang up year-round, not just during the Christmas season.  Think of the bookies in your life and make them one. I saw these and had to share the process of making them here. The little dresses are so very sweet and remind me of an old fashioned christmas, where Christmas wasn't all about glitter and gifts, I like that. I love that you can see the type on the book page that it is made from, it gives the ornament the perfect hint of character. Plus you are re-using something that would otherwise just be recycled, right?
I had an old copy of Jane Eyre, I love the book and loved this copy to death. The binding is compeletely craked, and the pages are falling out. I recently saw another copy at a second hand store and bought it. I knew I didn't want to just get rid of my well-loved copy so it just sat on the shelf along with the new one. When I saw this little project though, it really seemed like the perfect use for my treasured book.
Making this origami paper dress is very simple, here is a video of the paper folding process. In the beginning there are some animate kids talking- just keep watching, you are in the right place and the folding will start right after that.
To get the page of a book to the right square shape you will need to fold it diagonaly until it meets and the folded part will look like a triangle. There will be a top strip, cut off that extra and it will form a square when you open it. Most origami starts from a square piece of paper, so you may know how to do this already.
There you have it, now with a needle just pierce through the two flaps on the back pulling a thread through as you do. Then cut the tread to desired length and knot to close the circle. Now you are ready to decorate with a sash or bow or just leave it plain. It looks good however you choose to make it. This ornament is PERFECT for the typical ornament exchanges that are held throughout this season.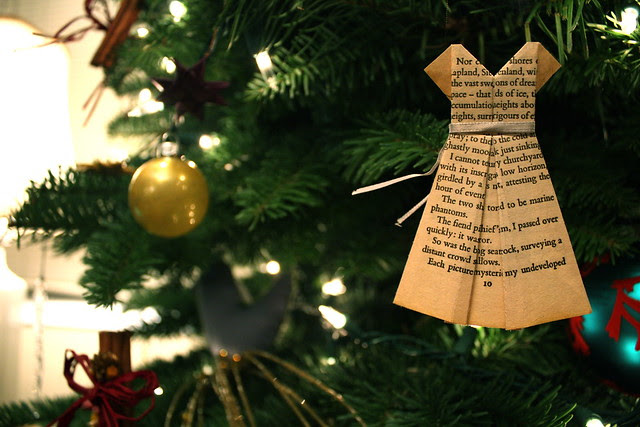 I made this first pretty dress origami ornament for a friend who just found out she is having a baby girl. Since then I have made several more because they are just so cute. I have decided it doesn't matter if you have a girl or not, dresses on the tree are always acceptable!
I found the inspiration to do this ornament from a Pinterest picture, from this blog.
---
A Handmade Christmas: I will keep posting ideas for a non-tacky handmade christmas. This is the first so far, I am a little slower this year as my babybelly is making me tired. I will still try and get quite a few ideas up before Christmas that you can make for family and friends I will re-post from the years gone by as well.
 Above all, enjoy this season- and remember what it really is all about: the birth of Christ.