What follows are the days in the life of a late-pregnancy miscarriage, or stillbirth. Not the story anyone wants to share or have, but our story it is none the less. Please pray, we are no where near healed- this is the hardest pain, the deepest sadness I have ever felt. At times I have wondered if maybe my heart would stop from the grief. There is hope in the future, but right now it is sometimes hard to feel hopeful. Minute by minute we get by.  To read from the beginning, go here.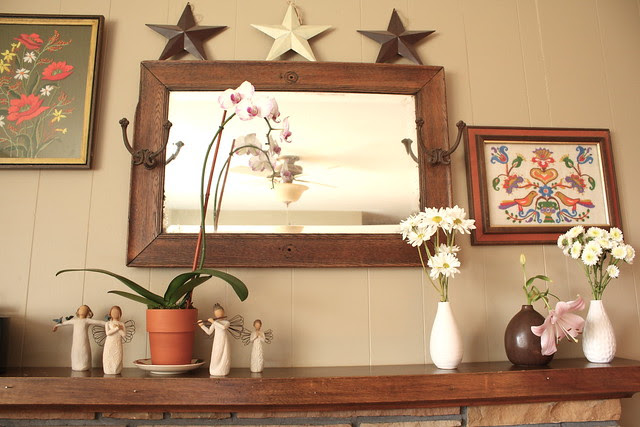 Over the last month and a bit, love has looked like cookies. Love has looked like soup, like a dinner to put in the freezer for later, like a tree to plant for Shiloh, a donation made in his name, an engraved bookmark, a book, a look, it has looked like so many things that I could not even mention them all and each meaningful to me. Love looks different when you  need it more, when you accept it however it comes. It fills you when you take it in a bouquet of purple iris' paired with sunflowers, a sweet note on the door, a phone call that I don't have to return, or one that I do, a prayer, a word, a hug and a kiss. Love is so different than what I thought it was, it is being there no matter what, loving stronger and harder than any circumstance. Love is staying, love is being, love is not going anywhere. Love doesn't run away.
My Heavenly Father longs to meet me in my pain, to sit with me when I am in anguish. I think often we don't allow God to meet us, we run to others, and while they are there for us, God's love is perfect when nothing else is. So when I crave the deepest, hurt the most, or feel the furthest away- it is mostly that I need to just lean into Him, lean harder, trust stronger, even when I don't have the strength, really all it looks like is me opening my arms to Him. A simple motion that can be so hard.
My church had a retreat this last weekend, and as hard as it was to go it was even more of a blessing to be there. He is so faithful to meet me. Each step of trust caused pain, but so much joy. The beautiful ladies there hugged me over and over, sent me smiles, shared their sorrows. I felt loved on, filled up, yet  still finding myself empty. I wondered why. I should have known.
During one of the worship sets I snuck away to cry, sob, and lay on the floor in a cold nursery alone. Tears came fast, my heart allowed to show itself broken. While I waited on the Lord to answer I wrote my prayer in my journal:
When your sunlight falls on me, how does it not shy away? How can life go on when I am feeling how I feel? When people don't understand? When I am so empty? Still you are Worthy. Still you are my Strength. Still you will supply me. Still you walk with me. Still you embrace me, you know my pain. In this too you are showing your faithfulness in my despair, your love in my weeping, your embrace of my heart that needs way too often to be filled. I need. I need. Please fill me.
Then I sat and wept more, surrender hurts- but not as bad as holding on to what He asks of me. When I gave in He spoke His words to me, I wrote them as well:
Laughter would not fill the sad, a friend would not meet your heart, a baby to hold would not fill the holes. Empty can only be filled by me. Empty can only be transformed when you don't fill it with the temporary. Empty will no longer hold its place, when to be emptied is to be filled with me.
Even after I hear his voice, still I am human I don't crave to trust Him, it is more brute force to believe than anything. But once I scrape and climb up to the altar and heave my pain there, the miracle is the weightlessness that I feel, the wholeness that I can call my own. It is nothing short of a miracle, a holy transformation and it lasts for a good bit, as long as I look to Him. Then when the emotion creeps in again, when my heart wanders, when friends have babies, when I see pictures of mammas with babies on their chest, I cringe and know again I have moved away. My gaze has shifted I am not being completely filled by Him. I crawl and scramble to His presence again. I am troubled and think this time it might not meet me, maybe it won't fill and make me complete. When I get there I realise all over again just how forgetful I am, just how I love to carry my own burden, feel my own weight of the pain, yet I was not made to do this, so I do it all wrong. I give all of me, my holes, my gripes, my fears to Him- He holds me and again I become weightless, filled, and satisfied.
God is what love looks like, yes because He sent His son…but also because He takes me and holds me for as long as forever. I just wish I were better at staying there.
---
Friends, family and tons of people in-between have poured out their love to us. There are so many intangible ways, but here are some of the tangible gifts and love that has been shared. I appoligize to those who made food, that dissapeared before I could get a picture. Still know we enjoyed every bite. There are more gifts I didn't get a chance to take a picture of, still I felt your love though them and I am so thankful that God has shown me what his love looks like in a way I had not known, through his people.
Thank you, for everything, each comment on my blog, each quote, each hug, email, letter, and card I wish I could say it and have you know just how much I mean it. Maybe if it is in all caps: THANK YOU!!