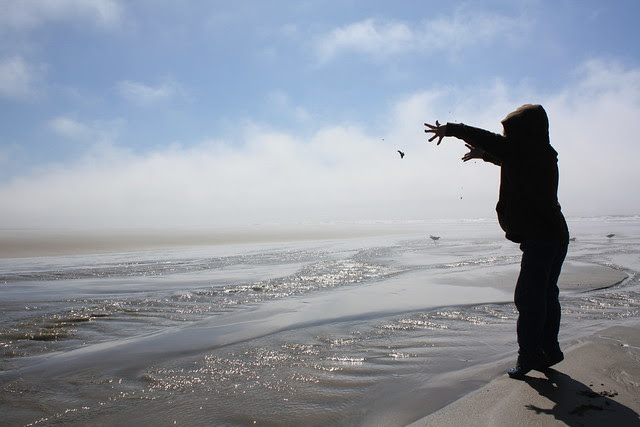 The more I fall into my Abba I  realise there are so many things I think I deserve to have, so many dreams that I feel He needs to bless me with, children I could swear He owes me- but I am a very spoiled child. I am reaching to Him and learning my place at the same time. I find it interesting how intertwined those are.
I am coming to embrace hope, but only in the joy that the All Knowing One gently holds my life as the most precious gift to His own heart. I do not hope for more, for something different- just a hopeful contentment.  He is not endebted. I am. As this sinks in, and rings true in my depths I feel change. A joy that is complete. The longing falls like scales from my weary eyes, and I blink away what was blinding me- to see that there are no limits to His dreams for me, that even my own hopes are limiting to the God who holds it all. The dreams I dream, I hold with open hands. The desires I seek, I release too.
My prayer is to have a heart that sings a beautiful song no matter how dark the storm ahead.What if life stays just as it is, will I be content? Or do I constantly see something brighter ahead, something that is fleeting, something shinny and run toward it? What  if nothing needed to change in order for my joy to be complete? This is truth. Nothing needs to change outside me, and yet I need to embrace the change of living without my own expectations on a God that is absolute love, He does me no wrong. Each day I live He has walked through before I was there, while I am there and after I pass to tomorrow.
What if I could just hold my hands open? What would He have for me then?
I just need to release the dirt I cling to, and see it as it is instead of my last hope. To look up, smile at what He brings and accept it as it comes- that is the heart of contentedness. Not to cringe, not to wad my arms across my chest in a pout, and not to gloat when I see the blessing coming at me full strength, but to always remember that my God is the Giver, the Father of All Good Things.
A very sweet sister sent me this verse, which I think fits here perfectly: "Every good and perfect gift is from above, coming down from the Father of heavenly lights, with whom there is no variation or shadow of turning". James 1:17
This song has been my anthem this week. If I trust He will not withhold no good thing, I can open my heart. I will open my heart to receive all that He has. I love the line- "pain is no measure of His faithfulness, He withholds no good thing from us". I listen over and over. I hope this blesses you too.
---
If you haven't read the story our our little Shiloh, read here.
If you read this post and it blessed you, let me know-it blesses me so to hear it, or send me an email if you would prefer.