As Christians, Christmas should be a huge celebration.  Not in the commercial way of buying as many presents as we can for as many as we can…but in meaningful celebrations with our families, in our hearts and really it should be infectious. I love this season, I start listening to Christmas music in early November- and most of the time I can't quit until late January. It is a time meant for families to gather around and share of the most amazing miracle of all time: when God come to earth in the form of a baby- a human. God stripped Himself of all his power to be like us, thus tipping the scale in our favour. Without this amazing birth, we would still be lost, still offering the sacrifices of animals that could never cover our sins.
The meaning of Jesse Tree is from the verses in the bible in 1 Samuel 16:1-13 and then Isaiah 11:1-10. The following section of the verse speaks of the Christ coming to the world by way of Jesse, and his descendants- thus the "Treeof Jesse".
1 There shall come forth a Rod from the stem of Jesse,
And a Branch shall grow out of his roots.
2 The Spirit of the LORD shall rest upon Him,
The Spirit of wisdom and understanding,
The Spirit of counsel and might,
The Spirit of knowledge and of the fear of the LORD.
3 His delight is in the fear of the LORD,
And He shall not judge by the sight of His eyes,
Nor decide by the hearing of His ears;
4 But with righteousness He shall judge the poor,
And decide with equity for the meek of the earth;
He shall strike the earth with the rod of His mouth,
And with the breath of His lips He shall slay the wicked.
5 Righteousness shall be the belt of His loins,
And faithfulness the belt of His waist.

10 " And in that day there shall be a Root of Jesse,
Who shall stand as a banner to the people;
For the Gentiles shall seek Him,
And His resting place shall be glorious." -Isaiah 11:1-5 +10
The Jesse Tree is intended to guide you through the 29 days that lead up to Christmas as a journey  towards a deeper understanding of all that took place leading up to the birth of Christ through the Old Testament and then into the beginning of the New Testament. Each evening before bed we do the scripture reading for that day and then the boys take turns getting to hang the specified ornament on the tree. They beg for it to be "time for the JesseTree" and love it when it is their turn to hang the ornament. We did it last year for the first time and I learned so much. It deepens my faith in Christ each time.  Going through the scripture of all the ancestors that lead up to Christ and seeing all the prophesies fulfilled to the letter really build our faith. We look forward to doing it every year as a tradition of the true meaning of Christmas with our family.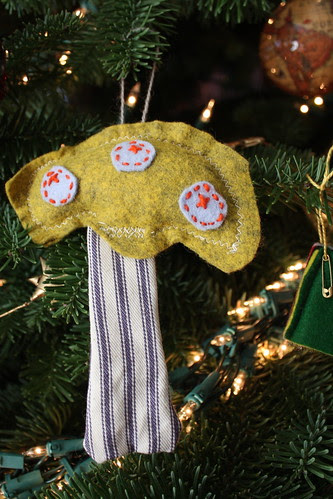 ---
Table of Scripture Readings and Ornaments for The
Jesse
Tree
As I finish up the ornaments, I will make each ornament 'clickable' and linked to my picture of it. That way, you can get an idea of what to make for your Jesse Tree Advent Celebration.
(I grabbed this table from  The Voice )
Date
Persons
Events/Themes
Scripture
Symbols
First
Sunday
Introduction of the

Jesse

Tree

1 Sam 16:1-13
Isa 11:1-10
The

Tree

Mon
Wk 1
God
Creation
Gen 1:1-2:3
Dove
Tues
Wk 1
Adam and Eve
The First Sin
Gen 2:4-3:24

Tree

with Fruit or Apple
Wed
Wk 1
Noah
The Flood
Gen 6:11-22, 7:17-8:12, 20-9:17
Rainbow or Ark
Thur
Wk 1
Abraham
The Promise
Gen 12:1-7, 15:1-6
Field of Stars
Friday
Wk 1
Isaac
Offering of Isaac
Gen 22:1-19
Ram
Sat
Wk 1
Jacob
Assurance
of the  Promise
Gen 27:41-28:22
Ladder
Second
Sunday
Joseph
God's Providence
Gen 37, 39:1-50:21
Sack of Grain or Coat
Mon
Wk 2
Moses
God's Leadership
Exod 2:1-4:20
Burning Bush
Tues
Wk 2
Israelites
Passover
and Exodus
Exod 12:1-14:31
Lamb
Wed
Wk 2
God
Giving the Torah
at Sinai
Exod 19:1-20:20
Tablets of the Torah
Thur
Wk 2
Joshua
The Fall of Jericho
Josh 1:1-11, 6:1-20
Trumpet
Fri
Wk 2
Gideon
Unlikely Heroes
Judg 2:6-23, 6:1-6, 11-8:28
Clay Water Pitcher
Sat
Wk 2
Samuel
The Beginning
of the Kingdom
1 Sam 3:1-21, 7:1-8:22, 9:15-10:9
Crown
Third
Sunday
David
A Shepherd
for the People
1 Sam 16:1-23-17:58,
2 Sam 5:1-5, 7:1-17
Shepherd's Crook or Harp
Mon
Wk 3
Elijah
The Threat
of False Gods
1 Kng 17:1-16, 18:17-46
Stone Altar
Tues
Wk 3
Hezekiah
Faithfulness and Deliverance
2 Kng 18:1-19:19, 32-37
An Empty Tent
Wed
Wk 3
Isaiah
The Call to Holiness
Isa 1:10-20, 6:1-13, 8:11-9:7
Fire Tongs with Hot Coal
Thur
Wk 3
Jeremiah
The Exile
Jer 1:4-10, 2:4-13, 7:1-15, 8:22-9:1-11
Tears
Fri
Wk 3
Habakkuk
Waiting
Hab 1:1-2:1, 3:16-19
Stone Watchtower
Sat
Wk 3
Nehemiah
Return
and Rebuilding
Neh 1:1-2:8, 6:15-16, 13:10-22
City Wall
Fourth
Sunday
John the Baptist
Repentance
Luke 1:57-80, 3:1-207:18-30
Scallop Shell
Mon
Wk 4
Mary
The Hope
for a  Future
Luke 1:26-38
White Lily
Tues
Wk 4
Elizabeth
Joy
Luke 1:39-56
Mother and Child
Wed
Wk 4
Zechariah
Anticipation
Luke 1:57-80
Pencil and Tablet
Thurs
Wk 4
Joseph
Trust
Matt 1:19-25
Carpenter's Square or Hammer
Fri
Wk 4
Magi
Worship
Matt 2:1-12
Star or Candle
Dec 24
Jesus
Birth of the Messiah
Luke 2:1-20
Manger
Dec 25
Christ
The Son of God
John 1:1-18
Chi-Rho Symbol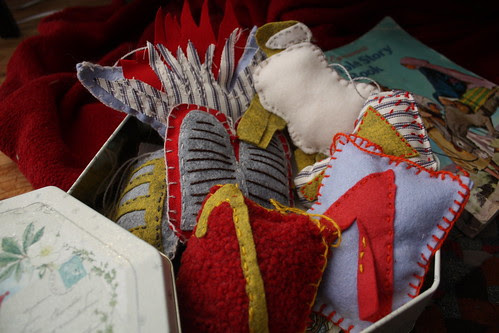 What Christmas traditions are you doing with your family? Did your family do any with you when you were young that you are continuing?