I first posted this recipe in 2011 on my previous blog, since I have arrived in Ethiopia and get to make almost everything from scratch I had to look this recipe back up. It is the best recipe I have tried.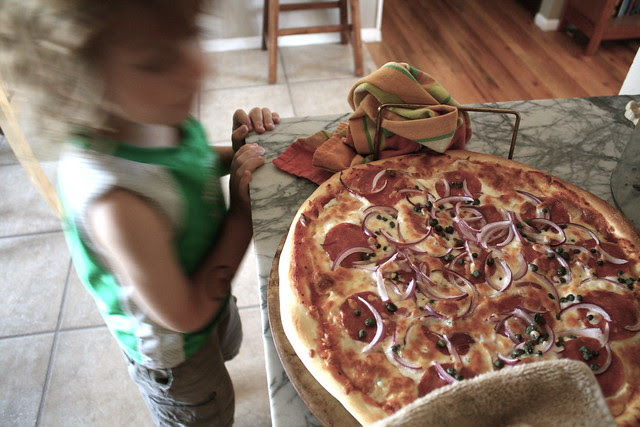 There are so many decent pizza recipes out there, and some that are half way good- but I can't do half way when it comes to PIZZA!! I used to work at a pizza place, and I was the daytime manager and in charge of making the dough in an enormous mixer thing. I thought several times about snagging the recipe because it was so good–but that wouldn't be right, right? So I didn't. In the years since dreaming of that dough I have made several very bad pizza doughs, doughs that make you want to not eat the crust. But several months ago I came across this recipe in the Artisan Bread in Five Minutes a Day. Wow, this dough is what you can make a good pizza on, and remember a good pizza is all about the dough, and quality toppings. EAT UP!
From Artisan Bread in Five Minutes a Day
Makes 4-1 lb loaves. (This recipe can easily be doubled or halved.)
Ingredients
2-3/4 cups lukewarm water
1-1/2 tablespoon granulated yeast (2 packets)
1-1/2 tablespoons Kosher salt
1 tablespoon sugar
1/4 cup extra virgin olive oil
6-1/2 cups unbleached all-purpose flour
Directions
1. In the bowl of your stand mixer fitted with the dough hook attachment, or in a large (5 quart) bowl working with a wooden spoon, mix the yeast, salt, sugar, and olive oil with the water.
2. Mix in the flour without kneading. I found this process to be incredible simple with my stand mixer, but it will certainly come together the old fashioned way. If you are not using a machine, you may need to wet your hands in order to incorporate the bit of flour.
2. Transfer dough to large (5 quart) bowl or lidded food container. Cover (not airtight), and allow to rest at room temperature until dough rises and collapses (or flattens on top), approximately 2 hours.
3. The dough can be used immediately after the initial rise, though it is easier to handle when cold. Refrigerate in a lidded (not airtight) container and use over the next 12 days.
Yields about 4 pizza doughs depending on thickness.
How do you like your pizza thin or thick?? For me it depends on my mood and how hungry I am!!